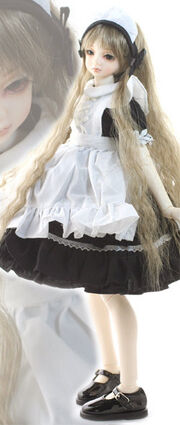 Momo is a BJD from Dollmore's Kid line. This character is mini-sized and available as either a male or female.

Dollmore the fourth MSD size ball jointed doll !! She has oriental and tender features without a double-edged eyelid. She is 11 years old and hope to be novelist. She is so cute girl ~!!!
Versions
Edit
The regular versions were released in 2005.
The LE Blue Checkered version was released in 2005.
The LE Sweet Wind Memory version was released in 2007.
The Suntan version was released in 2008.

Measurements
Edit
Old Body
height : 43.5cm
Circumference of Head  : 18.2cm
Circumference of bust  : 18cm
Circumference of waist  : 15.5cm
Circumference of hips  : 18.5cm
Circumference of neck : 7.6cm
width of shoulder : 6.5 cm
New Body
Height : 43.5cm
Head :19.5cm (7-8inch sized wigs fit well)
Neck : 7.6cm
Bust : 18cm
Shoulder : 6.5cm
Weist :15.5cm
Hip : 18.5cm
Wig - 7-8
Eyes - 14mm or 16mm
Shoes - 6 cm
External Links
Edit