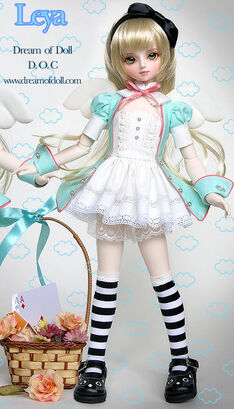 Leya is a female doll from Dream of Doll. She is part of their Dream of Child line, which is mini sized.

Age: 7
7th class of the first grade, Fairy school
Horoscope: Aquarius
Birthday: 11th of Feb.
Blood type: B
Favorite color: Violet
She's such a fastidious and delicate one but also a great musician. She plays the harp makes even the great nature to be impressed. In spite of her intellectual looking, she goes crazy about sweet cakes.
Versions
Edit
The regular version was released in 200?.
Measurements
Edit
Old Body
Height ; 41cm
Girth of Head ; 18cm
Width of Shoulder ; 6.2cm
Girth of Heap ; 18cm
Girth of Chest ; 19cm
The length of foot ; 5.5cm
The length of leg ; 21cm
The length of sleeves ; 12.7cm

New Body
Height  : 41cm
Head : 6~7 inch
Shoulder width of a garment  : 6.5cm
Circumference of chest ( basis of bust point ) : 18.5cm
Circunference of waist (the thinese part) : 13cm
Length of "from neck point thru bust point till waist line" (front) : 7.5cm
Lenth of "from neck point to bust point" : 4cm
Circumference of hips : 20 cm
Lenth of sleeve (till wrist ) : 13.5 cm
Circumference of upper arm ( the thickest part ) : 5.5 cm
Arm Hole : 7 cm
Circumference of wrist : 4.5cm
Length above lower part  : 7 cm
Length of pants : 19.5 cm
Length of skirt ( from waist line to knee ) 14 cm
Length from neck to the tip of toe ) 33 cm
Foot size : 5.5 cm
Circumference of calf : 7.5cm
Circumference of thigh : 10.5cm
Circumference of neck : 6.8cm
External Links
Edit